Welcome to the
Greater Othello Chamber of Commerce
Our Mission is To promote Othello by enhancing Othello's local exonomy, Chamber members and tourism.
Othello is small farming community in the Columbia Basin in Central Washington.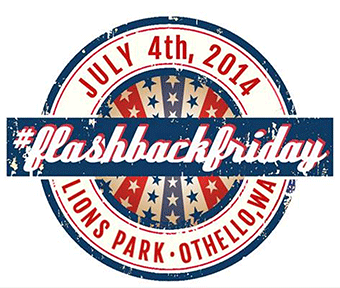 We are currently planning our big community 4th of July event. Join us for a fun time for all family members, including games, a parade, entertainment and fireworks.
The Othello Beautification Committee
The following is a video of the dedication of the Main Street Lighting and Beautification Project. The dedication was held July 24th, 2014, celebrating the first block. Check it out!
Othello Celebrating Memorial Day by Tad Baker
Published on May 27, 2014
God Bless America (Mormon Tabernacle Choir). There are lots of community members that come together and setup these flags for Memorial day. The community has a great Memorial service during the day. We live in a great country and are very blessed to have the freedoms we do. Thank you to all those that serve and have served for my freedom.
What can the Chamber do for your business?
• "Shop Othello" events
• Advocate for local business interests in public forums
• Businesses will be listed by type, available to anyone browsing our site
• Your business will be advertised on our website, free with paid dues in 2014.
• Advertise your event on our website!
Chamber of Commerce Sponsored Events:
• Annual 4th of July Celebration Lion's Park
• Annual Chamber Banquet in February
-----Citizen of the Year
-----Teacher of the Year
-----Business of the Year
-----Civil Servant of the Year
• Political Candidates Forum
• Shop Othello Events
• Beautification Committee
The Chamber Participates in or Supports:
• Sandhill Crane Festival (March)
• Classic Car Show/Spud Run (July)
• Fiesta Amistad (August)
• Adams County Fair and Othello Rodeo (September)
• Rodeo Parade and Bed Race Forms
• Othello Choral Society
• Christmas Lighting Displays (December)
• Residential Christmas Lighting Display Award (December)
• OHS Speech & Debate
• OHS Leo Club
Partners:
Adams County
Adams County Community Network
lAdams County Development Council
City of Othello
Port of Othello